FASHION AND BEAUTY REDEFINED- AN INTRODUCTION
What comes to many people's minds when they read or hear the words "fashion blogger"? Probably, they imagine a woman with cosmopolitan good looks, a woman who seems to have gotten out directly from a page of a glossy magazine.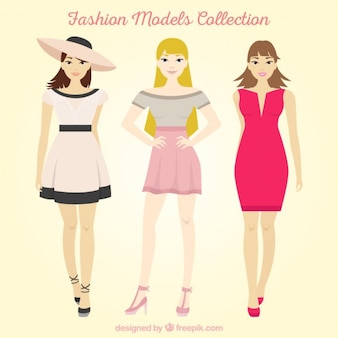 Photo credit: freepik
Just like all other women in the world, I am beautiful in my own right. But as far as the standards of fashion modeling are concerned, I can't be a fashion model material. Therefore, this post is not about modeling. It's not about how to give tutorials on how to dress up.
* Most fashion blogs feature fashion clothes that are branded and cost an arm and a leg.
* Most fashion shows feature our sisters, the women who, with all those long limbs striding gracefully in the runway, are likened to long-stemmed roses cultivated in greenhouses, or the tulips growing in well-maintained flower farms.
* Most fashion designers come up with designs that are not practical for the "average" woman like me to wear, what with all the ruffles, big bows, and whatever-you-call-it things attached to them.
No doubt, all designers of clothes are bloody talented, creative, and imaginative. It beats me how each designer constantly comes up with a creative design that is distinctly different from other equally popular designs from other popular brands. Looking at those designs, however, gives me mixed emotions.
*Not all women can afford super expensive clothes; their hard-earned money is for other necessities.
*Even if all women could afford them, not all of would wear those clothes because those clothes were designed for the super slim and super long-legged women. Not all women have the same build. Beauty, as they say, comes in all shapes, colors, and sizes.
*Most women are like me, always on the go. Wearing those cute clothes with ruffles and bows would not be practical.
THE REALITY THAT IS OFTEN IGNORED
Beautiful flowers grow not only in greenhouses and flower farms. Many beautiful flowers grow in the forests, valleys, meadows, roadsides, mountain slopes, on the sides of cliffs, and even in crags. Their roots cling to whatever surface that can support them. In the same manner, beautiful women are found not only in the runways but also in the public markets, on dusty public roads, under the scorching heat of the sun, on the crowded buses, at the busy intersections, to mention only a few.
I mean, those women can't be wearing those clothes while sending a child to school, when assisting a family member suffering from a chronic illness, or when out in the market carefully choosing the freshest produce. Imagine how ridiculous it would be for a woman running errands while wearing elaborately designed clothes, just like the clothes we see in the runways. Those fancy clothes were designed for the air-conditioned runways. Those clothes were designed NOT with our "ordinary" sisters in mind, but with our statuesque sisters striding on the runway or posing under the canopy of delicate flowers, flashing a lovely smile for the lens of the photographer. Those women are likened to delicate, beautiful flowers being grown in pots in greenhouses.
Photo credit: freepik
As I mentioned earlier, many "ordinary" women are out there, exposed to the dust, the wind, the smoke, and other harsh elements. Around the globe, millions, if not billions of our sisters deal with their own struggles yet they manage to present the best version of themselves and shine in their own unique beauty every day while facing the intricacies of their everyday lives.
Photo credit: freepik

These women are the lilies of the valleys, the saffron of the meadows. Those women are us. This blog is for US.